Eclipse Dance Collective
eclipsedancecollective
32564 Warren Rd, Westland, Michigan 48185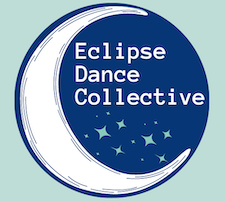 About Us/Studio Philosophy
At Eclipse Dance Collective our mission is to provide a diverse dance curriculum for students of all ages and experience in a safe and comfortable environment. Our classes instill strong technique while encouraging artistic freedom self-expression. By emphasizing our passion for creativity, self-love, and mental and physical health, we believe students will be empowered to reach their highest potential as dancers and individuals.
Tuesday
4:00 pm - 9:00 pm
Wednesday
4:00 pm - 9:00 pm
Thursday
4:00 pm - 9:00 pm
Saturday
10:00 am - 2:00 pm
2 studios with sprung marley floors
1 Tap room with hardwood floors
quality speakers/full mirrors in all studios
3 accessible bathrooms
lockers
lobby area
changing room
sensory room!
kitchen/dining area
full ac/heat
homework area
4 Ballet barres
Creative Movement props
4 acro mats
2 tumble air-tracks
water, snacks, & merch available for purchase at the front desk
cute/welcoming decor
convenient location next to Champions Martial Arts/about a 10-15 minute drive from 2 dance-wear stores
Our studio has won multiple high point, standout, & choreography awards at both national & regional competitions!
Personally, I find our dancers' greatest achievement to be the growth they have accomplished as individuals as well as a team. EDC's greatest accomplishment is the safe, welcoming environment led with empathy & kindness that created an unbreakable bond our entire team shares.
Certifications and Staff Qualifications
Our staff consists of 2 teachers with Bachelors in Dance from Wayne State University & 2 teachers in their Junior year in Madonna University's dance program.
We have a passion for teaching a diverse & well-thought-out curriculum while teaching our dancers through a lens of empathy, kinesiology, & artistry.
We clean high-contact areas/items like the speakers, barres, & props nightly, as well as the entire studio getting cleaned weekly. We suggest/enforce masks unless students/families are uncomfortable. Teachers & staff almost always wear masks in the building. Hand sanitizer as well as masks are available at the front desk.
Acrobatics/Tumbling/Gymnastics
,
Ballet
,
Boys Dance Classes
,
Character
,
Combination Classes
,
Contemporary/Modern
,
Creative movement
,
Dance/Drill Team Technique
,
Improvisation/Choreography
,
Jazz
,
Jumps/Leaps/Turns Technique
,
Lyrical
,
Musical theater
,
Pointe
,
Pre-pointe
,
Stretch and Flexibility Technique
,
Tap
Specialized Programs and Classes
Birthday parties, Boys classes, Field trips, Guest Teachers/In-studio workshops, Private lessons/coaching, Summer Camps for Young Students, Summer Intensives and Workshops
Preschool (3-4 years), Youth (5-12 years), Teen (13-18 years)
Beginning, Intermediate, Advanced
Recital/Annual Performance, Competitive Team/Groups, Non-Competitive Performance Team/Groups, Community Events, In-Studio Showcases, Holiday Performances
Promotions, Sales, Specials, and Scholarships
Our recreational program has an awesome registration discount!
1 class is $48 a month
2 classes are $85 a month
3 or more classes it is $105 a month
Team Eclipse Auditions are August 18 & 19 4-7 pm!
$10 registration fee for those who did not attend our summer intensive.
Email us at eclipsedancecollective@gmail.com to secure your spot!
Have a question about our studio? Contact us today.